Whatever Happens Next
Nikki Sudden, 1956 - 2006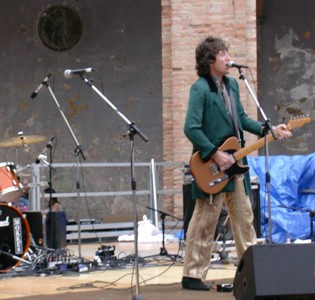 L'ultima volta che ho visto Nikki Sudden, a un certo punto i tecnici hanno dovuto chiedergli di smettere di suonare, perché stava ormai piovendo da un pezzo ed era pericoloso restare ancora sul palco.
Lui ha fatto un altro dei suoi disarmanti sorrisi alla Stan Laurel e voltandosi verso di noi ha detto che gli dispiaceva, non dipendeva da lui.
Noi, del resto, sotto l'acqua eravamo rimasti a malapena una trentina, probabilmente gli stessi che l'avevano già visto qualche mese prima al Covo.
E così quest'estate, in quella piazza di Urbino, non ho potuto riascoltare la sua cover di
If I Could Write Poetry
dei Television Personalities. Ve la metto qui, perché mi commuove, insieme a
The Helicopter Spies
, la mia canzone preferita dell'album degli Swell Maps
Jane From Occupied Europe
. Una canzone che ogni volta mi fa dire, cazzo, quelli erano già lì quindici anni prima dell'indie rock, dei Pavement e di tutto il resto.
Nikki Sudden ha raggiunto suo fratello Epic Soundtrack
ieri
. A noi, per fortuna, resta la loro musica.
- Swell Maps - The Helicopter Spies
- Nikki Sudden - If I Could Write Poetry - (Television Personalities cover)
update
:
qui
il post di Fabio de Luca.