The beauty of misunderstandings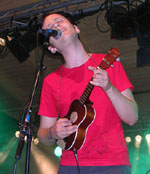 Mentre non avevo tempo per il blog in questi giorni ho fatto un po' di ordine, e così, ancora sull'onda emotiva del concerto di sabato scorso (e in attesa che Simone e Lucio preparino le foto del commovente live), ho messo on line la versione integrale dell'intervista che La Laura e io facemmo alla fine della scorsa estate a Jens Lekman e che fu pubblicata nel numero tre di Losing Today.
La trovate su
polaroid alla radio
, nella sezione "parole".
Come al solito, quando mi cimento nella lingua di Shakespeare, correzioni e suggerimenti are welcome.